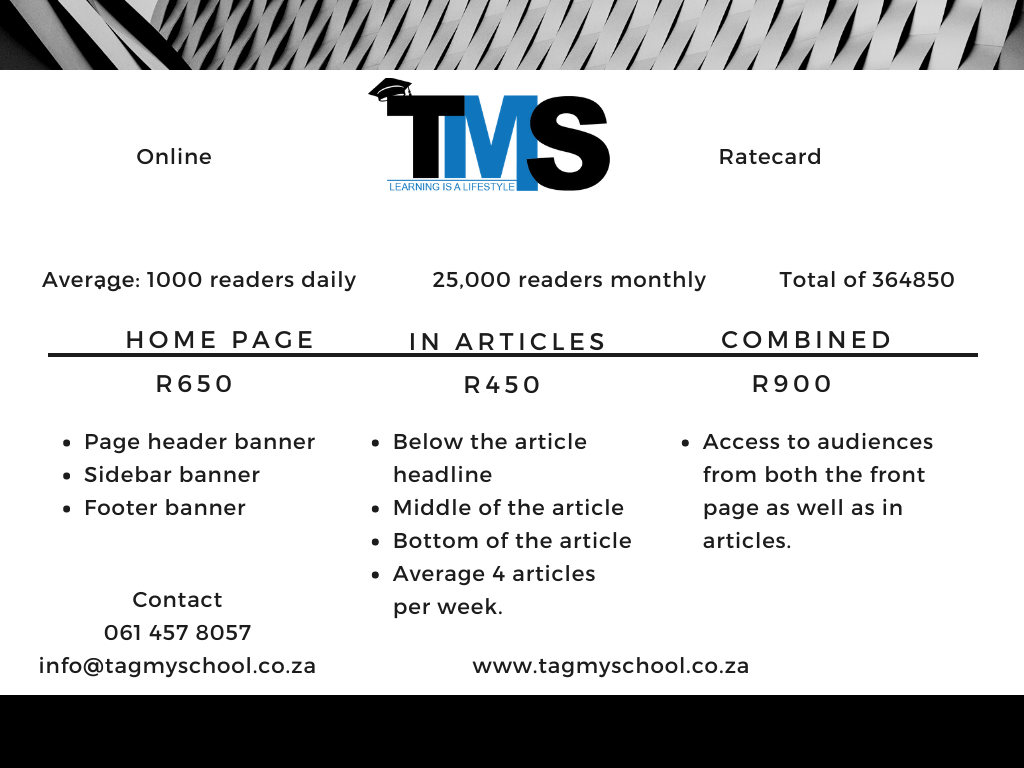 The latest unemployment stats paints a very bleak future for millions of young people who are still in schools as well as TVET colleges. These unemployment stats are a clear sign of the country's hostility faced by young people through poor education in Townships and Rural Areas.
Some Learners in the rural schools cannot even construct a sentence at Grade 10! Speaking to our source based in the Eastern Cape, Centane area she says "most kids here cannot read or write which is sad, so you can imagine how depressing it is to mark their papers. Yet we are told by the school management that we cannot fail them" concludes the source.
Another TMS MAG source based in KZN Ixobho area says "I want to be a doctor one day, but the school I am in does not offer Science studies so I don't know. But learners are fighting to have Science subjects taught at the school again, if they succeed then I may still study towards my dream of becoming a doctor".
The environment in schools especially in townships and rural areas is hostile to young people. It is hard to introduce the topic about an education system which speaks to the current and future job market space when the education itself lacks qualities to produce a workforce that can add value to the job market.
Then you have a Minister of Women, Youth and Persons with Disabilities, Maite Nkoana-Mashabane bringing back the tired excuse about the unemployment stats being the Apartheid Legacy, a "far-que" is deserved here. The unemployment stats among young people is at 73%, what has her department done about the situation? Her counterparts in DBE and DHE are shockingly quiet about the latest unemployment stats as if it doesn't have anything to do with them!
South Africa continues its hostility towards young people by injecting billions of Rands to the failed SOEs yet education remains poor.
An argument can be made about the community's responsibility and ability to look after the school infrastructure. But again a question can be asked "which infrastructure?" because schools in Townships and Rural Areas have poor infrastructure.
When lock down was introduced in 2020, education in these schools came to a standstill while former model C schools continued teaching and learning online. This immediately exposed the incompetencies of the Basic Education leadership.
In a world which is fast changing into digitisation, learners in townships and rural areas remain behind. The question then is "are these learners equipped to add value into the future job market of a digitised world?" the answer is a big no.
How can the unemployment stats be brought down?
Invest in quality education which speaks to the current and future market trends.
Invest in education Organizations which alleviate pressure in the public schooling system.
Double the efforts in focusing on schools in Townships and Rural areas to bring them abreast with their city and urban areas counterparts.
Scrap NYDA and invest directly to the youth owned start-ups. But also redefine "Start-Up" according to the South African context, not the current European context.
Invest in Start-Ups from Townships and Rural Areas. Have a micro-finance scheme that can invest in a new business for 5 years, this will assist the new business to navigate the risks while generating a cashflow before reaching the break-even points and later the profit margins.
The 5 suggested points are practical and can drop the unemployment stats down. South African government can raise enough money to inject in these areas. The amount of money that this country loses due to corruption alone can be enough to turn things around for millions of unemployed youth.