A fleet of 100 shiny new red mountain bicycles and 100 beaming smiles from excited learners identified by their local community marked the handover of a much-needed donation that is assisting children to get to school more quickly and easily each day.
"The Barokologadi community in the North West, under the tribal council led by Kgosi Thari Maotoe, identified the bicycle beneficiaries who are boys and girls from Grade 8 to 11 at Olefile Secondary School in Pitsedisulejang, some 150km from Rustenburg," explains Noel Guliwe, chief executive officer of Kawari Wholesaler and Distributor and the Medipost Holdings Group.
At a handover event held at the school recently, grade eight Morake Lehlogonolo, 14, was the first to receive a brand-new bicycle as part of the donation made possible by Medipost Holdings' corporate social investment (CSI) and non-profit organization #BIKES4ERP.
"Each of the 100 learners received a bicycle emblazoned with the motivational motto 'Pave the way to education, as well as a helmet, basic bicycle repair kit, and bicycle safety information," adds Rentia Myburgh, Medipost's Group sales, and marketing director.
The bicycles are specially equipped for dirt roads, and to be low maintenance with hard-wearing components, and each has a unique identifier code.
"With community, school, and family involvement, we reinforce the safety aspects of bicycle riding and ownership. #BIKES4ERP runs a campaign of 'No helmet no ride' with each bike that is donated, and on handover, each child is evaluated on whether or not they can ride a bicycle and is supported as needed," adds Nora Tager, executive director of the Peace Foundation, which operates #BIKES4ERP.
A mechanic based at the school will assist the learners with mechanical issues that could arise on the bicycles in the future, and a chain is also provided to each learner to help keep the bicycles safe.
Elephants, Rhinos & People (ERP) was founded to preserve and protect Southern Africa's wild elephants and rhinos through a strategy of targeted rural poverty alleviation. The organization has been working with communities in the area since 2017 to provide sponsored mountain bikes to help children in rural areas make education – and the opportunities it brings – more accessible.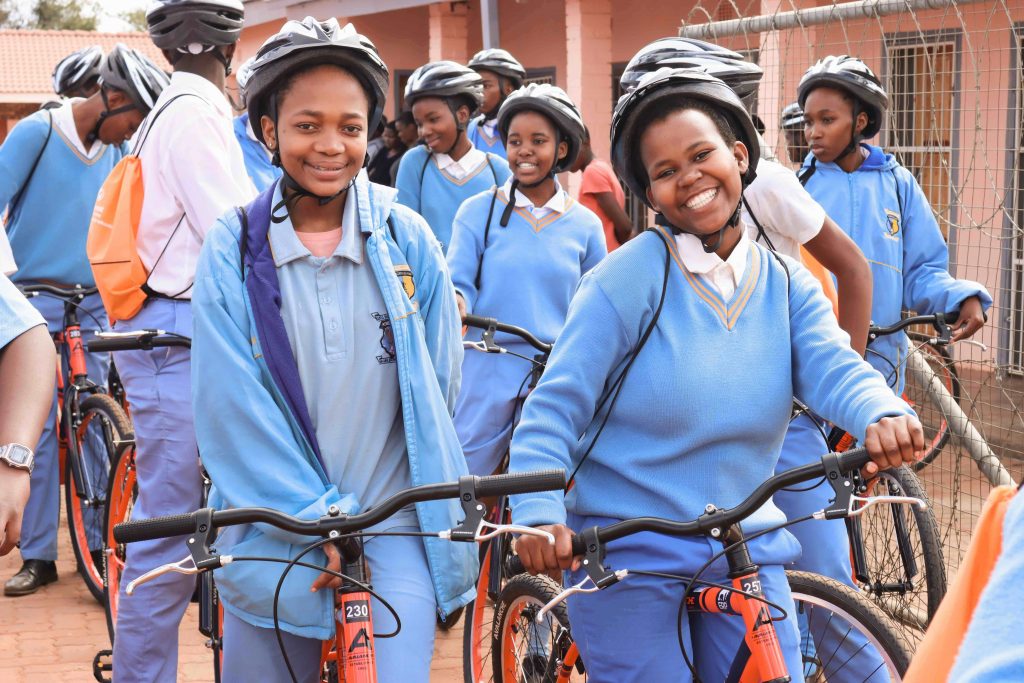 "Since the project was initiated in 2017, we have distributed 307 bicycles in the neighboring communities around Madikwe, and are grateful that to date not a single bike has been reported stolen. This is thanks in large part to the involvement of the community and their strong support for the initiative. The bicycles are provided as part of a holistic, integrated approach to building sustainable local economic development, and the community value what these bicycles represent for their children's futures," Tager says.
Myburgh points out that once each bicycle beneficiary matriculates, they give the bicycle back to the school so that another learner in need of transport can use it next. "Many more children can therefore save time and energy, that would otherwise be used walking to and from school, for studying," Myburgh says.
"Making it easier to get to school also translates into improved attendance and more pupils completing their schooling, which is fundamental to finding employment and to many future opportunities in life," she says.
The handover event program included a special tribute in honor of Mr. Tefo Makganye, the late principal of Olefile Secondary School who passed away earlier this year and was instrumental to various community upliftment initiatives, including the arrangements for the latest bicycle donations.
Schools that have previously received bicycles through donations to #BIKES4ERP have noted a marked increase in attendance, and improvement in learners' marks up to 15%, increasing the pass rate to 90% in some instances.
"On behalf of Kawari and Medipost Holdings, we thank #BIKES4ERP for partnering with us to help make a lasting difference in the lives of young people by paving the way to better education. Through initiatives such as this, the private sector can contribute to more sustainable and inclusive economic growth for rural communities," Guliwe says.
"Getting the most out of education should not be harder for learners in rural areas, and we are glad of the opportunity to help lighten this burden for the pupils of Olefile Secondary School. Particularly in an area of such natural beauty that is also blessed with rich wildlife and biodiversity, we believe that the helping hand of education can unlock great economic potential by developing young people and assist in breaking the cycle of poverty many rural communities face," Guliwe concluded.