Fine art, also referred to as "high art," has long been held up as the highest standard of artistic expression. Fine artists make work that is purely aesthetically pleasing. The aesthetic purpose distinguishes the fine arts from the "low arts" which are traditionally designed for more practical purposes.
Sanele Xaba is a talented Fine Artist from Umlazi Township, South of Durban. I've been drawing since I was a kid, so I am more of a self-taught artist. From an early age Sanele started winning cool prizes at school for his art work, he recalls "I used to get first prize for school artwork competitions. My first competition was at Ngilozi Primary school, where I received gold certificate and prize money of R2,000".
"I then moved to Zwelibanzi High school, which is where I won several competitions including two awards. The first award was for participating in the Decoration Team, and the second award was for scoring 100% in my Visual Art in 2020."
"I am currently studying Fine Art at Durban University of Technology. I'm also a multimedia artist, drawing inspiration from the human form, portraiture in particularly. I exhibited my work in African Art Center at the Bat Center earlier this year, where Tamasa Art Gallery purchased my Steve Biko drawing for an R12,000".
Sanele's work also held in many private collections and has done numerous amount of commission work. "The subject that enhanced my skill in high school is Visual Art. Fine Art can be described as a category of art that involves creative expression, and it might convey an idea, emotions or explore social commentary. It can also be used in storytelling by using a series of images representing moments in a story."
Titled man of peace (Steve Bantu Biko). Biko was a great hero, and he managed conflicts through solving problems and building relationships.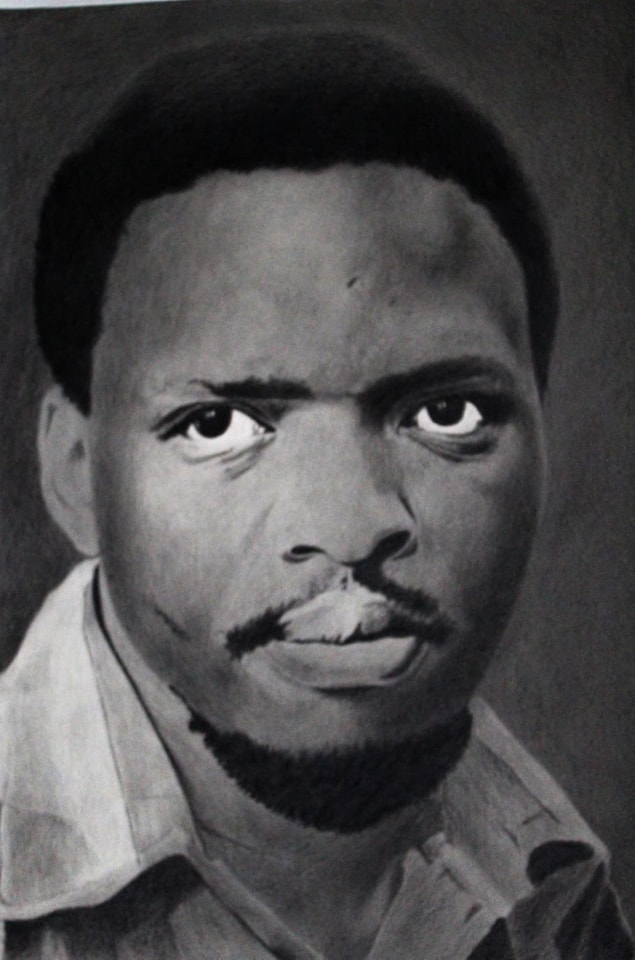 ● Look up and smile(Nokwanda Thuso Mbedu). An award-winning actress from Pietzmaritzburg in Durban. She's a beautiful, talented girl, an inspiration to the youth.
● A girl thinking about her future. This is a young girl, she believes in herself and she's hoping for a better life.
"The artist that inspires me is Philani Luthuli da, Mduduzi Dzanibe, Lungelo Gumede the artist, Nhlaka da artist, Khulanolwazi Ndlovu, Mthobisi Maphumulo, Mfundo Mthiyane, Sphephelo Mnguni, Wonder Buhle Mbambo, Nelson Makamo, Cromewell Ngobeni and many more…The most favourite artist is Philani Luthuli da."
I'm hoping to move from Durban to Johannesburg and get a studio to produce my own Fine Art
People can get hold of me on Facebook , Instagram, WhatsApp(061 723 0983) calls and via Email to see more of my work , purchasing and to commission me.
Story by Zinhle Mbanjwa