No cricket ground? No problem kids shall play cricket.
KFC mini cricket hosted 1500 kids together with their parents at TUT this past weekend. This was to celebrate a 10 year partnership between CSA and KFC.
For the longest time Cricket was viewed as a "white sport". The Proteas didn't have as many black players as they have now. The government had to intervene by introducing a transformation policy which forced selectors to increase the number of black players in the Proteas. The players were there but not selected for some reasons.

This policy opened a door for players such as Temba Bavuma who became the first black player to score hundred runs for the Proteas. However this policy has not gone down well with other white players who felt hard done by it. Players such as Kyle Abbot, Richard Levi, Stiaan van Zyl, Rilee Rossouw and Duanne Olivier to name a few have chosen to sign the Kolpak contract which barreds them from playing for South Africa. The main complaint from these players is that they don't get to play because other players (black) are given preferences.
The challenge remains for CSA and government to preserve such talent from leaving the country while ensuring that talented black cricketers are also given a chance.
The transformation of cricket has not been the easy road for CSA. Program such as KFC Mini Cricket become very crucial because at an early age kids learn to play with everyone regardless of their background.
"We have a wholistic approach. Our high performance hubs develop young players through nutrition, education and skills. The plan is to identify kids from all backgrounds including Rural areas to give them a platform to play cricket. The government has helped us a lot in supporting the program. The main aim is to bring all cultures and races to play together. Start them playing together early in order to avoid culture shocks at a later stage" says David Makopanele CSA's Mass Participation manager.
One of the players who have played Mini Cricket is the Multiply Titans fast bowler Corbin Bosch. "As a developing player you face lots of challenges which may create doubts. There's a lot of talent around the country and you really have to be the best to make it. A lot of hard work and self belief to get to where I am now and even further. I am motivated and driven by my Dad. Having watched him play for South Africa and I idolised him so much. I wanna play for SA just like my dad."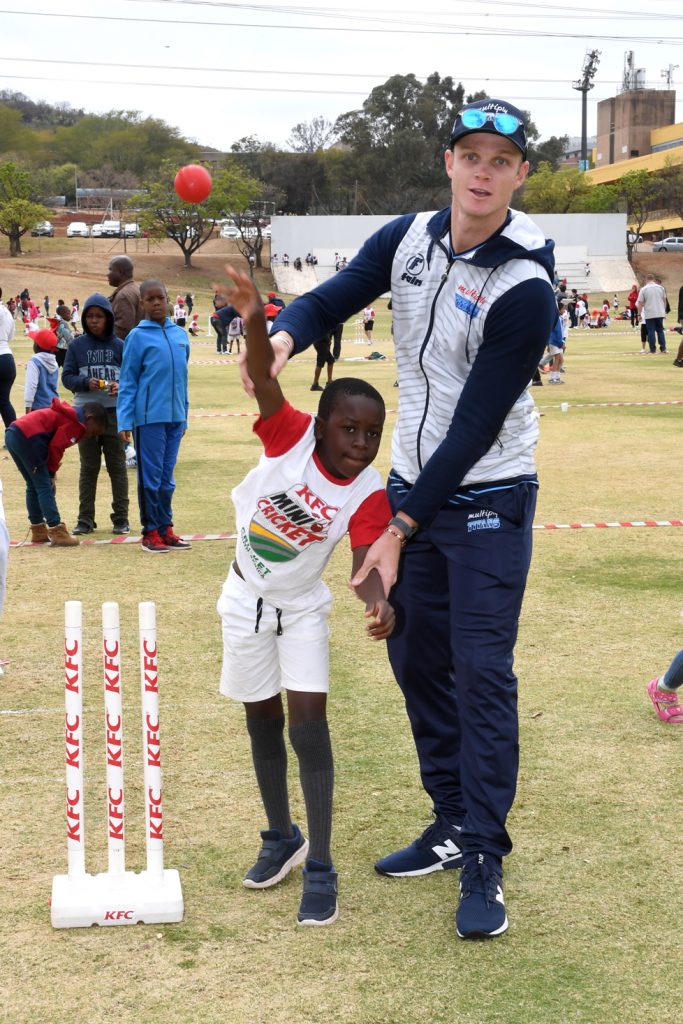 "Events such as KFC Mini Cricket exposes talent that normally would go unnoticed. My advice to the kids would be that they must have as much fun as possible. Playing mini cricket was a foundation for me and today I get to play under Mark Boucher, it's all started here at KFC mini cricket"
Another Multiply Titans player Alfred Mothoa shares a journey that is filled with many ups and downs.
Having coached in Townships and Rural areas he has witnessed the hunger and a desire for cricket in these areas.
"As a young kid I played football in school. They played me goalie when I wanted to play striker, the last game I played we lost 8-0 but today I play cricket and taking wickets."
"When I came out of school I coached Hammerskraal Cricket Club. I went to Limpopo to coach Nkowa Nkowa Cricket Club"
"Having events like this is very important. Hammerskraal is a huge area, I had kids who couldn't afford transport; I had to dig into my own pocket to support them. There are coaches doing that today. What motivates a coach to support a kid is the talent and dedication. Parents in townships don't believe their kids can make it in cricket. My mom saw me play for the first at the Kasi Challenge which was held in Hammerskraal"
I never thought I would play for the Titans. In fact I gave up cricket and went to work as a waiter at a popular restaurant in Tzaneen. I hated working there, had to come back to cricket again. To the young kids playing here today, don't give up" Alfred played in the UK, before coming back home to play for the Multiply Titans.
To organize an event such as this, takes hard work. A gentleman who coordinated everything tells us what it takes to coordinate all that we see today "It took us many sleepless nights to put everything together. This event is not about how good or bad the kid is; but it's about kids having fun and falling in love with the game of cricket. I have 22 buses coming from Hammerskraal, Altridgville, Soshanguve, Mamelodi and Cullingham to name a few" Kagiso Masubelele High Performance Hub administrator.

The event had a few celebrities which included the SABC 3 Isidingo actor Motlatsi Mafatshe and Dj Zinhle.