This Mandela Day, help Starting Chance NPO to change the lives of 100s of children and adults, including some of South Africa's most hidden and overlooked young people with disabilities.
The South African Constitution guarantees all children the right to education. Right now, we are failing our young people, especially those with disabilities, living in poverty-stricken environments.
Parents receive little to no support of any kind and specialised early childhood development (ECD) centres and schools are inadequate to support the need. To help address this, Starting Chance – an NPO that's built six schools in Mfuleni and given close to 2000 children an educational starting chance – is building one of the country's first-ever fully-inclusive early childhood campuses, which will include a mainstream ECD centre, a specialised school for disabled young people, a therapy and consulting space and a mutli-purpose community area. This Mandela Day, you can help to bring this vision to life through much-needed donations.
A first of its kind inclusive campus
The campus will include a specialised school – Lonwabo Special Care Day Centre – which has been run by principal Thandeka Mafila since 2008. Mafila started her centre after hearing a woman call for more ECDs targeted at disabled children on the radio. Thoroughly moved, she began with just a few children in a room at the back of her house. She upskilled herself and her team with training and she earned her teaching diploma – a long-standing goal. Her husband would drive around Mfuleni fetching and dropping off the children. Last year, he passed away. But Mafila is still determined to see her dream to turn her day-care into a fully-fledged school, a reality. And Starting Chance is making it happen.
Mafila says, "My absolute dream is to see Lonwabo growing from a day-care into a school for children with special needs, here in this area. Because there's no school for children with special needs here, they are transported to other areas. Every time it's hard I just say to God, give me strength and give me a way, because I cannot stop what I'm doing."
Starting Chance has been working with Mafila for several years and has nearly completed the building of Lonwabo school for 40 children with mixed disabilities, ranging from cerebral palsy to severe autism. The school is specially designed by Gap Architects for disabled young people, and will need to be equipped with an array of specialist equipment to give children the very best care and educational stimulation.
This will be a breakthrough for the children and their parents. But it is not enough. It is just the first phase of the campus project.
Ali Corbett, co-founder of Starting Chance, says, "The inclusion of persons with disabilities in mainstream society promotes equality and restores dignity and independence, and above all, improves their well-being. To achieve this for children in Mfuleni and surrounding areas, phase two of the campus project includes the building of a mainstream ECD for 180 plus children and inclusive spaces for the community as well as an observation classroom for training teachers. The campus will empower disabled children to meet, interact and play with other children. Some children from Lonwabo will also be able to move to the mainstream ECD after receiving the care and support they need from Thandeka and her team."
Community members and parents from Mfuleni and surrounding areas will be able to use the campus as a safe space for support and training opportunities. Miriam, who has been wheelchair bound after a serious car accident in 2011, says she is very excited by the prospect of finally having a place to meet up with her friends, many of whom are in wheelchairs and seldom have an opportunity to leave their homes.
The campus project is one of the first of its kind in South Africa, with a focus on inclusivity and world-class design.
Mandela Day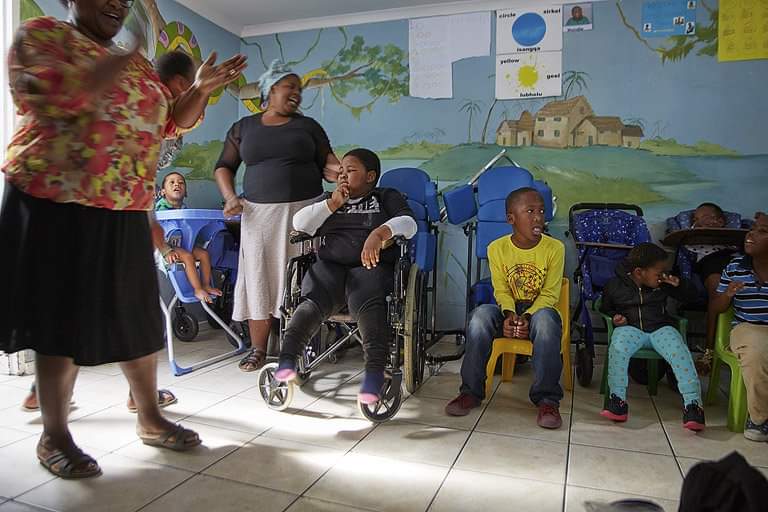 Starting Chance is currently building two schools – Lonwabo, and another Mfuleni-based creche called Mzamomhle, which was ransacked during the recent lockdowns. The site has now been fenced and Starting Chance has commenced construction of a new facility for 120 children. Both should begin operating during August 2021.
You can help! Corbett says the NPO is calling for donations to help to meet increased costs due to the impact of Covid-19 and to equip the two schools, which include nine classrooms, two kitchens, and two therapy rooms. "Please consider sponsoring a room or educational zone for a classroom to help us give our children the best possible starting chance in life."
Every donation makes a difference – big and small. There are various options to sponsor specific rooms or zones – like books for a book corner, art supplies, musical toys or educational games.
To learn more and donate, visit StartingChance.org.za.