Background
by Dumi Mbona
Siphe Mashece is a 24 year old, born in East London Eastern Cape, grew up in Dutywa, attended lower grades at Notinara Junior Secondary School and completed high school grades at Rakgatla High in Brits, Wonderkop. I've always been an out-spoken enthusiast but grounded and well-disciplined learner with extreme natural intelligence.
In the years 2008 (grade 8) and 2009 (grade 9) respectively, I was a School Prefect responsible for Bell-ringing for period and break intervals; locking and unlocking classes, attending youth debates & conferences on behalf of the school and provide feedback (I recall attending an IEC Electoral conference early December 2008 in East London with a three night stay at Regent Hotel). Resuming my high school grades in 2010 (grade 10) was a huge challenge (new environment, having to learn new languages and make friends)
How did you end up in Marikana?
I grew up in what I consider as distorted family because of circumstances which were inevitable. My father, Mr.Bonisile Colbert Mashece former Artisan employee at LONMIN Eastern Platinum, went missing early October 2001 when I was doing grade 1 at Notinara JSS. As such, my mother, Mrs.Nopakamile Mashece had to leave for Rustenburg early 2002 in search of my dad's whereabouts together with LONMIN and the SAPS, as young as we were at the time: we were left alone at home. My siblings and I were later dispersed among close relatives between the years of 2002 to 2005 as my mother was not working and had no means of taking care of the five children all by herself. These circumstances exposed us to various kinds of abuse like physical, verbal and emotional abuse to mention the least, as a result we ran away from the 'homes'  we were living in and opted to stay alone at our home. Because of the unpleasant situation and series of events of monthly break ins at home, mom took us with her to Rustenburg in 2010 as she was then employed as a Cleaner at LONMIN.
It got borne in my mind that the only weapon to fight these sufferings and prevent history from repeating itself, was to empower myself with knowledge and specialized skill through education at all cost. To date, my dad's whereabouts remain unknown and the psychological effects of not having a proper/normal family setting are a great challenge and motivation to be relentless in pursuing greatness. In all of this, I have learnt that I am the architecture of my dreams and that with Jesus the Lord, it is possible to grow tasteful fruit from unpleasant fields.
Why did you choose to study LLB Law and how far are you with your studies, how is it going?
Law has always been my great area of interest from my childhood, my dad was certain that I'd make a great defence Attorney taken on how I'd always stand my ground in everything I say no matter how wrong, I was always firm to convince people that I was right. However it was all just a dream until I met Team Genesis (Genesis NPO) late April 2012 when I was doing my Matric at Rakgatla High, for career guidance. Team Genesis did not only offer career guidance, but also undertook to assist me with applications for admission to various universities as well as with sponsoring my 1st year LLB in 2014.
Studying in the field of law, an LLB degree is without a doubt not a walk in the park but I love every single moment of it and I wouldn't trade it for anything. I will be registering my Final Year towards the LLB programme this year (2018) late January.
Life of a young person here in Marikana and how the incident affected you?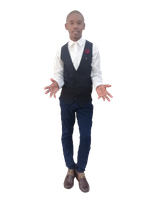 Being a young person in Marikana is not so much of a jol. The area is characterized by mining activities and that is all that young minds are exposed to on daily basis, it is common cause that most young people around here aspire to work in the mine (which is not such a bad thing with proper qualifications), however between the strife of poverty and the expensive tertiary education fees, is the rise in number of high school drop-outs and increased demand for employment: which is the one of the biggest social issues which leads to escalating violent acts of criminal behaviours like violent strikes amongst other things.
During the time of the Marikana strike 2012 which resulted into a massacre on the 16th  August, I was a grade 12 learner, a period where 'time'; focus and stability is crucial. However, I found myself living in constant fear of my life because:
I was living in the family unit houses which belong to the mine;
Houses that were raided every night by protesters, forcing people to join the strike and if any refused the call: they'd be brutally killed on the spot.
My guardian whom I was staying with was a comrade to one of the unions that locked-heads during the strike.
As such, I had to compromise my study-time in the evening and sleep early, lock myself indoors all day long (stressful conditions). I recall the time when 36 people were gunned down in the koppie, I was having a revision study group at school when we heard a terrifying sudden tear of gun fire.
What make you to be the pick of the pack amongst other young people your age?
I know what drives me; I'm highly motivated to take a challenge, persistent and I know when to stop but above all these, humanity and humility are the greatest of my principles. I don't aspire to live a life that is out of reach of the ordinary class of people.
Free education
Free education at tertiary level is a much needed investment in South Africa; I have fallen victim of high cost fees at least twice, first time was in 2013 when I had to de-register at University of Johannesburg because I could not afford the fees for the whole year, then again in 2016 when I could not register for my 3rd year LLB Law at North West University due to lack of funds. Free education in context, implies that institutions of higher learning must be accessible to all, inclusive of the poorest of the poor who can't afford to pay the ever-increasing excessive fees. However, in reality, this theory implies that 'someone' other than the student(s) must foot the bill so that everyone can be able to access the doors of learning at institutions of higher learning. The announcement by the President is a good start to resolute to invest in the future of the youth of the country through funding the cost of higher education, however a mere announcement without the framework in place detailing how this 'free education' is going to be implemented by the by the government, remains just an announcement with no effect. The seriousness and willingness of the government to commit to the promise of free education, remains to be seen on the SONA 2018 amongst other things.
Free quality education is not a gimmick, it only requires the government to work on the financial fiscals of the country and prioritize accessible tertiary education as an investment to the future of the country and cut down to size the frivolous expenditure; corruption, fruitless investments and reinvest in the interest of the future of all South African children for the benefit of the country.  "..It always looks impossible until it is done…" Dr.Nelson Rholihlahla Mandela
What is next for Siphe in 2018 and beyond?
Having completed my short course in Bookkeeping, my sole focus in 2018 will be to successfully complete my final year in LLB Law. Moving onwards, nothing would thrill me more greatly than to dedicate my first few years of practice, as an Attorney in youth development and establish my own health fitness sports company before venturing into humanitarian and mercantile law in the nearby future.
What do you do for fun and entertainment?
Writing poems; reading a book (novel), listening to music and watching comedy.
If you were to change one thing in education, what would it be?
Advocate for African literature.
Poem recites, moments after the Marikana massacre.
IN THE MOUNTAIN
I took a glimpse of the clock where time goes bit by bit, moments pass second by second, and the nation falls piece by piece.
Where are we going?
There were times we lived together in one accord. What is it that is missing? We used to share and dance together without any dispute. What went down the drain?
Yesterday we were all smiles and in tears of joy. Our eyes ran while our minds were still wondering. Our hearts as ever dominated by terror.
The unspoken marks of who shall die? Is it worth it? Still, fill our throats. They call it the Marikana massacre, but to us it was war against humanity!
Poet: Mashece Siphe