Virtual learning has been the safest way for schools to continue with their education program. The COVID-19 pandemic presented challenges for schools around the world including South Africa; however for the Nigerian organization Slum2School it presented a unique opportunity.
Slum2School is an organization in Nigeria which focuses on advocacy, community interventions, policy formulation, and youth engagement.
They engage the community to find the best sustainable solution to provide education for children and young people; building new learning centres, collaborating with community schools to improve education quality and work in partnership with the government to improve the public schools.
In their quest to leaving no child behind, they have setup virtual and cluster learning programs across different communities through state-of-the-art Virtual Learning Studio.
The Virtual learning program is made up of the virtual learning and cluster learning programs.
Virtual learning program.
The virtual learning program involves self-paced and collaborative learning modules. Students are provided with digital tablets, internet, active numbers and headphones set up to support learning. Students are closely monitored and graded to evaluate learning outcomes.
The virtual learning studio.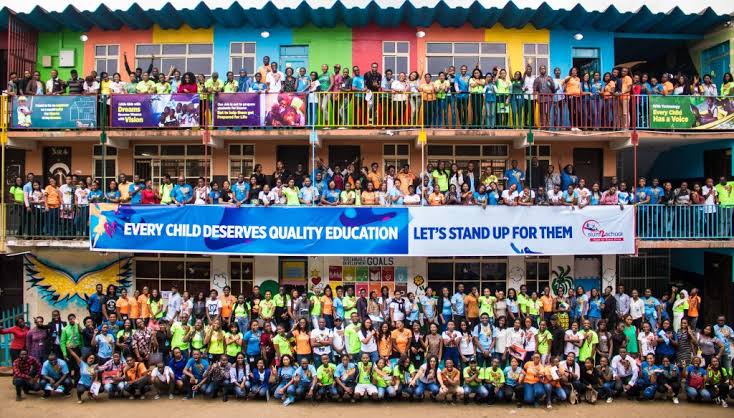 After surveying 1,310 students from over 10 communities we discovered 96% of students surveyed were eager to return to school, and the top reasons were missed interactions with peers and teachers. 
We also realized that without learning engagement, 92% of these children faced the risk of abuse and some of them wouldn't return to school. Setting up the virtual learning studio and platform was the most forward-thinking solution to provide.
 It was designed to mimic classroom interactions found in brick and mortar school settings. This is the first of its kind in the country and within the Sub-Saharan region and we invite you to join us in supporting, sustaining and scaling this program.
Cluster learning program.
Younger learners are engaged in community-based learning clusters within households supervised by a community teacher.
Trained community teachers take learners through interactive technology enabled sessions, through videos and educational games, utilizing globally sound teaching aids from laptops and tablets.
Each teacher is assigned a cluster of learners within the household who he/she is responsible to monitor, mentor, continuously evaluate and share learning resources regularly.
This program is sustainable in ensuring that learners who do not have access to schools can still learn within communities, thereby reducing the rate of abuse and illiteracy.
Slum2School founder Otto Orandaam is a Development Consultant, Social Entrepreneur and an Educator passionate about organizing communities, social reform, nation building and community development.