The good course Advertising Campaign is a Tag My School Campaign Drive to help educate small companies about Advertising with TMS MAG.
The Magazine is a great platform for many young people in High Schools or TVET Colleges especially in Townships and Rural Areas to share their dreams while they are still at school.
Teachers and other businesses or Organizations doing great work in both basic and higher education have used TMS MAG to shine the spotlight on their great work in improving education.
Established by young people in 2017, Tag My School Magazine became the first of its kind publication which focused specifically on schools or TVET Colleges in the marginalized communities.
The Magazine started off as both Print and Digital, however due to the expensive Print prizes and lack of financial backing, the Magazine decided to become a fully Online platform. This has helped focus our scarce human Resource to the Online platform.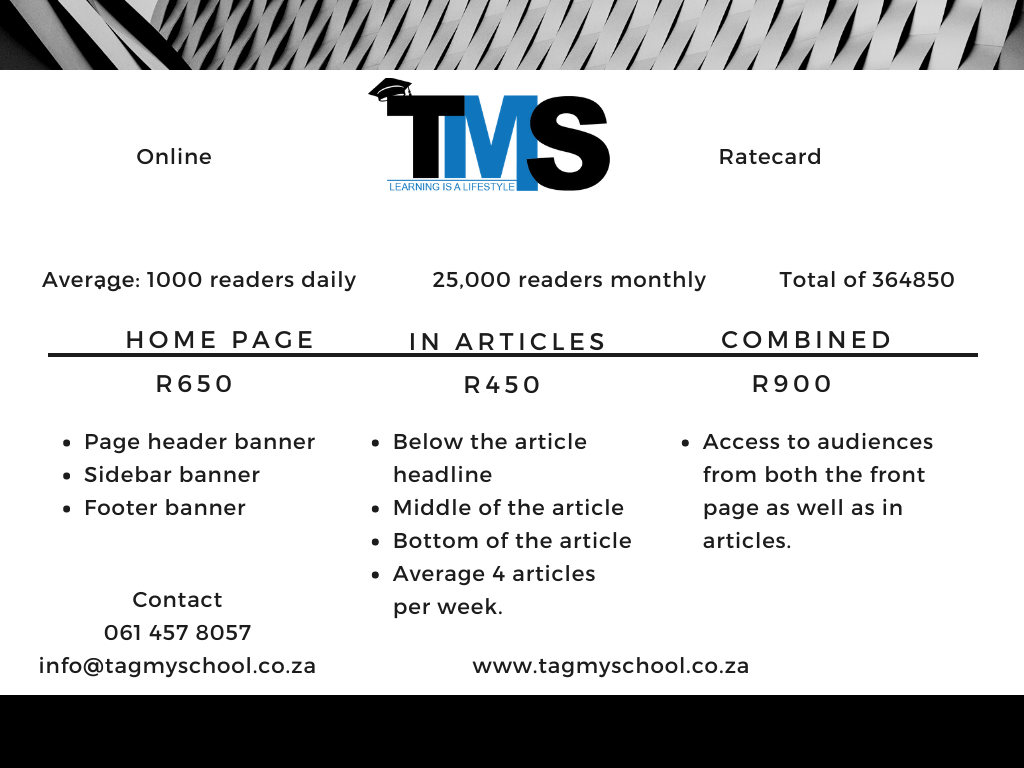 The Magazine has been a Self funded Initiative So far, the good course Advertising Campaign hope to achieve a number of small to media companies looking to increase their clientel. We see the big brands companies Advertising via the Google Adsense, a clear sign that we are a good platform that can offer more to small to medium businesses.
We have built enough readership and have plans to expand the content into more visuals. The good course Advertising Campaign will help us attract companies that believe in our work as presented through the current content offering. With your ad-spent diverted to this platform, you will be helping us grow and become more self-sustained.
Young people as well as Educators Love this platform because of what it stands for, therefore it is to grow it beyond the current state. We have plans to open an Online TMS MAG TV Channel.
To be part of the Good Course Advertising Campaign Simply email our editor at: info@tagmyschool.co.za